188 Brookline Ave., Boston, MA 02215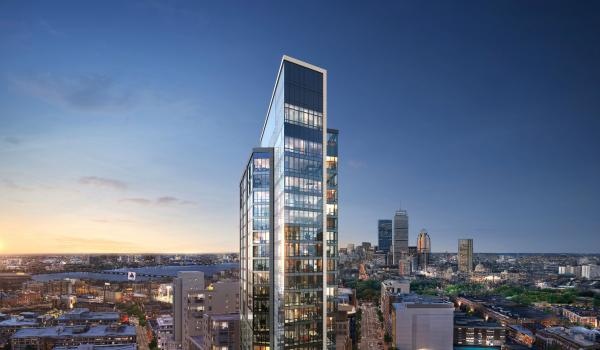 Building Details:
Neighborhood: Fenway
Development Type: Luxury Condos
Stories: 30
Number of Units: 350
Uses: Mixed Use
Building Type: High Rise
Price Range: $1,000,000+
Year Built: 2016
Unit Information
– 1 Bedroom
– 2 Bedroom
– 2 Bedroom + Den
– 3 Bedroom
Amenities:
– Levity Lounge
– Private Dining Room with Fireplace and Shimmering Glass Floor
– Sky Deck with Kitchen and Gas Fireplace
– Secluded Library
– Sky Top Pool with Expansive Deck and Hot Tub
– Private Sky Cabanas
– Fully-Equipped Fitness Facility with Yoga Studio
– 24-Hour Concierge
– Garage Parking
– Bike Storage
– Dog Spa with Washing Station
Description:
The western gateway to The Fenway, The Pierce Boston will be a mixed-use tower built to house 109 luxury condominium units, 240 rental units and over 20,000 square feet of street level retail space. Wrapped in a curtain wall designed by Arquitectonica, a world-famous architectural firm based in Miami, FL. The building is a positioned to become a Fenway standout. The building is designed to maximize 360-degree views of Boston, Cambridge, the Charles River, and the Emerald Necklace.
Residents of Pierce Boston will enjoy incredible views of the Boston skyline and an extensive amenity package including a spectacular rooftop pool and deck. An exercise in sustainable design and construction, Pierce Boston is targeting LEED Silver status. The top floor will feature an outdoor pool and roof deck with cabanas, as well as an indoor lounge with a suspended glass floor, fireplaces, and dramatic views. Private roof deck cabanas are also available for purchase starting at $300,000.